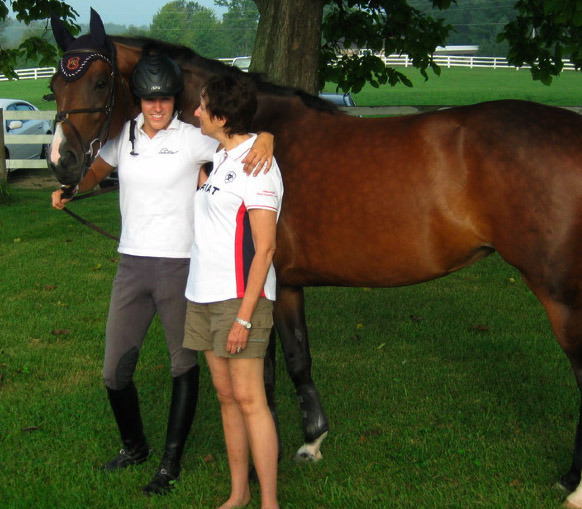 Chic is a fabulous 2003 premium Oldenburg mare imported after winning her foal inspection in Canada. She is exceptionally well bred and her bloodlines would be invaluable to anyone's breeding program. Her bloodlines suggest she would be a superstar in either a jumping or dressage carreer. She has been correctly started and has minimal experience in both the hunter and jumper rings. She is approx.16.1, gorgeous movement with solid conformation and excellent disposition. She just started showing in 2009 and was Champion in the baby green hunters at her first show. She has been schooled through 2nd level dressage and has nice lead changes in the hunter ring. In 2010 she was shown by an amateur jumper rider. She is a natural athlete, and very honest. This talented mare could absolutely do anything!
Chic's sire, JUVENTUS, was a well-established stallion at Iron Spring Farm. He started his career by being named Champion foal at Brabant in 1991 and then went on to be Reserve Champion at his stallion test. He received 9's on his walk, trot, canter and trainability and a 10 on character. He took top honors both in the dressage ring and at prestigious breed shows. He won at FEI levels on both coasts and held the distinction of sweeping all his classes at Dressage at Devon, including Grand Champion, not once but twice within five years. JUVENTUS competed successfully up to the Intermediare I level with many wins, including the Florida Gold Coast Opener, with a score of 69.62%.
JUVENTUS' lineage goes back to LE MEXICO X MEXICO.  Furioso II was full-brother to the French stallion Mexico (sire of Le Mexico, who has produced numerous Grand Prix show jumpers). He also sports the great jumping TB lines of LUCKY BOY in his pedigree.
On her Dam's side, Chic is notably and interestingly line bred back to one of the great ones, the big chestnut stallion with the white belly spot, FURIOSO II. This Anglo Norman stallion has left his impression in just about every German and European riding horse breed. He produced 68 approved sons and was also the sire of the Olympic gold medal winners Lutteur B and Pomone B. Some of his sons include: FALKNER, FALSTAFF, FANAL, FANTAST, FANTOM, FASHION KING, FASZINATION, , FORMAT, FORTUN, FORTUS, FRAUENHELD, FREDERICUS - AN, FREEDOM Z, FREIHERR, FREISCHÜTZ, FRIEDERICUS REX, RFIESENGEIST, FROHNHERR, FÜRST, FÜRST AGRAM, FÜRST FURIOSO, FÜRSTENSTOLZ, FUGATO, FUMIRO, FURALDO, FURI AGRAM, FURIANO, FURIDANT, FURINO, FURION, FURIOSOS SOHN, FURISTO, FURORE, FUTUR, RINCON FURIOSO and FUTURO. It has been known to have been said that such stallions like FURIOSO II are only born once every 100 years, this stallion was a legend on his own. He has also produced countless excellent sport horses like Britain's top international show jumper EVEREST FOREVER, the junior European dressage champion FIORIO, the international show jumper FURRY to just name a few. FURIOSO II was the full brother of the also famous MEXICO.

TRES CHIQUE is currently showing in HITS Ocala with Pablo Vivero until March 2011. Extremely sound, no vices.

Here's the lastest video of Tres Chique in Florida