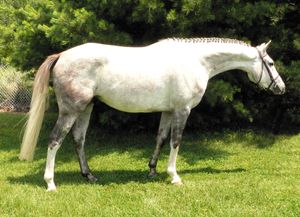 Elan is a gorgeous 2005 Belgian Warmblood gelding. He is the spitting image of his sire, Morocco.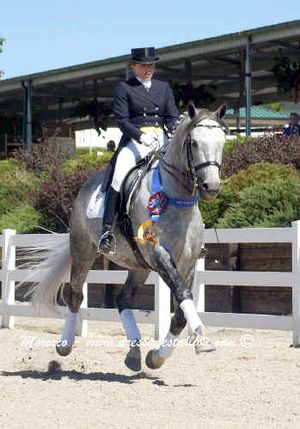 Morocco, pictured at right, often earns 9's on his gaits, 10's on extensions, and numerous scores above 70% at the FEI level from top international judges. Morocco is by Mannhattan OLD who goes back to Furioso II.
Elan inherited his sires good looks and has an absolutely fabulous disposition. He is very friendly, intuitive, and always trys to please. He is almost 16.2 now and still has a little to grow. Elan is a stunning mover with a huge canter and a flamboyant trot. He was started undersaddle as a 3 yo and has had a full year of professional training. He has been meticulously handled and has solid basics in hand and under saddle. He easily negotiates cavaletti and cross rails. He's very balanced and athletic even at his young age. He has an excellent work ethic, and he's very sensible and easy to ride. He has already been on some cross country hacks and is very levelheaded, brave and well behaved. Elan is excellent to work around and has perfect stable manners. He enjoys being bathed, groomed, tacked, etc. and is always a gentleman for the vet and blacksmith. Very sound with no vices at all. This is a VERY nice horse that will be fun to bring along and is destined to be a shining star in the hunter world or as an upper level dressage horse.