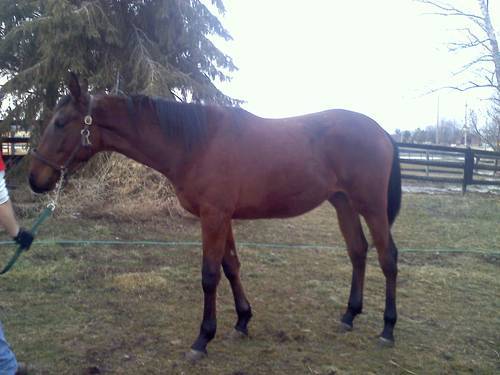 Holy Toledo, a fabulous 2 yr old Trakhener gelding, was rescued from a bankrupt farm as a yearling. He is still very growthy and will mature to approx. 17H. He was recently discovered to have OCD lesions in his stifles. He is now in need of a $2K surgery to ensure his quality of life.
We are offering Toledo FREE to any good home that is willing to take in this sweet horse and pay for his surgery. He has the best outgoing personality and deserves to live out his life comfortable and loved.He is currently unsound and needs surgery. His prognosis is a bit guarded but favorable and he should be a useful (and beautiful!) mount after recuperation. The outlook for the surgery is good and he should be a useful horse once he recovers.
Old Oak Farm will donate transportation to and from OSU and stall space until he is able to be placed in his new forever home! If you are interested in adopting this horse or donating to help with his medical bills please contact Denise at
Oldoakfarm@earthlink.net
or call 614-746-5844 for more information.
Toldeo has found his forever home and is now in PA. His OCD surgery went great and is on his way to a good recovery.