To our GREAT Summer working students of 2013...
Special thanks to Jackie Black, Halie Townsend, Mallory Brink, Sara Cline, and Katie Holland
Check back... photos from 2013 coming soon!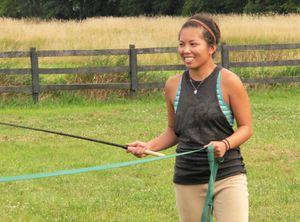 Tiffany came to Old Oak Farm with virtually 0 experience with show horses and riding. She fit right in and was eager to learn. Tiffany got lots of experience with all types and ages of horses. She got her first real riding lessons and by the end of the summer she was off the lunge line and able to walk and trot on her own in an open field! She learned how to groom and tack horses, lunge horses properly, set up and groomed at horse shows, helped us build cross country jumps, cleaned tack, put up hay, and of course cleaned her fair share of stalls! Thank you Tiffany for all of your hard work and dedication to the horses at Old Oak Farm.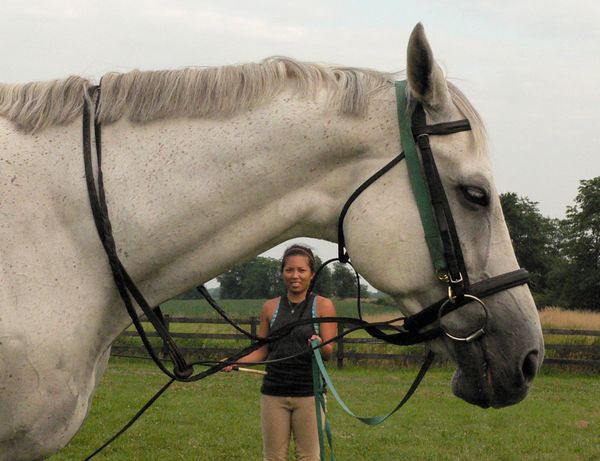 I am a student at Ohio Weslyan University in Delaware, OH. I have been competing at IHSA shows and wanted to keep up with my riding over the summer. This summer I decided to stay in Ohio instead of going home to Georgia because of my new job at the Columbus Zoo. 

I had taken some lessons from Denise and decided to become a working student. I moved onto the farm as soon as classes were over and started one of my favorite summers.  I hadn't really ridden much during the school year so I was horse starved and very out of shape.  I loved the rhythm of feeding the horses in the morning, cleaning a few stalls, going to work, and coming home to feed, clean, and ride. 

Of all the horses I've ridden at Denise's, my two favorites are Woody and Dar.  Both are very different horses, but both are so much fun to ride.  The first time I got on Woody was an amazing experience and I'm so glad that he was my project horse this summer.  He improved so much and he taught me so much about my own riding. Denise is a great instructor and I have gotten to be a much better rider over the last few months.  I am more aware of myself and my horse when I ride and I learned something new on every ride.  It all paid off at our last horse show when I had the best ride of my life with Woody on a hunter course at Trader's Point Charity Horse Show.

This summer has been full of excitement, from watching little baby Tootles be born and teaching her how to feed out of a bottle and then a bucket to having my heart in my throat trying to hold onto the stallion Norman as we did a live cover breeding in a field.  I loved living on the farm and being involved in everything that went on. The horses are some of the friendliest I have every met and I miss them all now that I'm back at school.  Though
I'm glad I'm so close that I can still come out to the barn every week.